Capitol Update - April 13, 2023
UEN Legislative Update
April 13, 2023
Download the print-friendly version of the April 13, 2023 UEN Weekly Report
This UEN Weekly Report from the 2023 Legislative Session includes:
House Action: Gun Bill and MA+ Permanent License

Committee Action: SSB 1208 ESA Clean-up and HF1 Property Tax Cuts Move Forward

Appropriations Process No Change

Big Bills Awaiting Action

Last Legislative Deadline

Advocacy Action

Links to Advocacy Resources
House Action:
HF 654 Guns in Cars and Gun Safety Education: this bill allows appropriately permitted individuals (age 21+) to have guns locked in their cars in school parking lots/driveways while delivering or picking up students or materials to schools. Prohibits insurance companies from denying coverage solely based on guns in parking lots. Requires DE to create a model program of gun safety instruction, K-6 based on the Eddie Eagle Gunsafe program and 7-12 based on Hunter Safety Course (both developed by the National Rifle Association). Encourages school districts to offer an approved gun safety course to K-6 and requires it be offered for grades 7-12 students. Does not require students to take it. Does not require a teaching license to teach it. The course can be offered during school, after school, over summer and at school, private school or elsewhere. The bill was approved 62-37, sending it to the Senate, which already approved a similar bill without the gun safety instruction mandate. UEN is registered opposed.
Note: Although not likely much comfort, this bill didn't single out school districts. It also applies to community colleges, regents universities, private businesses, with strong opposition across lobbying entities and only 4, including the National Rifle Association, registered in support.
HF 672 MA's Plus Degree License w/o CEUs: allows MA or higher degreed educators to renew a license without requiring CEUs, although the educator must still have a professional development plan developed with their evaluator and submit to BOEE for a background check. Educators with evaluator approval are still required to renew that approval every 10 years. Approved by the House 98:0, now assigned to the Senate Ways and Means Committee. UEN is registered in support.
SSB 1208 Education Savings Accounts Clean-up: Eliminates public school provision of textbooks to private schools. Prohibits taxpayers from claiming ESA payments for tuition and textbook tax credit. Lowers the School Tuition Organization cap from $20 million, to $17 million and then to $14 million in FY 2025 (still may be too high as nearly all students in private accredited schools will be eligible to receive an ESA by 2025). Requires money remaining in an ESA when a student withdraws, is expelled or does not re-enroll in a private school to be returned to the state. During the subcommittee, UEN requested amendments: 1) allow some of the funds to go back to their resident public school if the student is no longer in the private school, re-enrolls in a public school, and wasn't counted on the prior Oct. 1 count date. 2) requested a March 30 deadline to apply for an ESA. Subcommittee attendees also mentioned transportation assistance provided by public schools. It was suggested that the $9 million appropriation go directly to private schools and take the public school out of the claims processing role of reimbursement to private school parents. The Subcommittee of Sens. Cournoyer, Dawson and Winckler voted to move the bill forward with amendment. Next stop is the Senate Ways and Means Committee and UEN is registered in support.
HF 1 Property Tax Cuts: this bill most notably would require a 10% set aside in a fund before running a bond issue for a construction project and mailed notice to every property holder in the district of the impact on property taxes of the proposed ballot initiative. The bill was amended and approved by House Ways and Means Committee, moving it to the House Calendar. UEN is registered opposed, but will review the Committee amendment when available online to confirm whether our concerns were addressed. Next stop House Calendar.
Note: the Senate's Property Tax proposal is still on the Senate Calendar, SF 356, which limits property valuation growth and phases out the PERL. It is completely different from HF 1. There is a long way to go before there is agreement on how to address property taxes by the House and Senate and not much time left in the Session.
Appropriations Process Stalled:
This chart from the IALNS Newsletter shows no change since last week and no action in the House.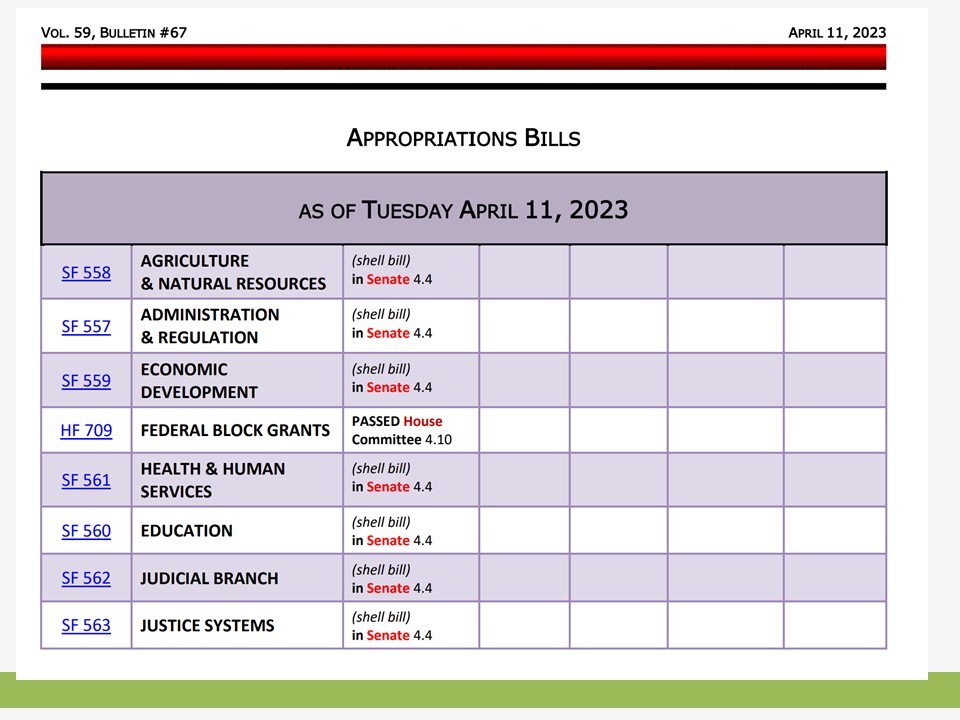 Big Bills Awaiting Action:
SF 496 Governor's Transparency and Parents' Rights: see the April 6 UEN Weekly Report for a detailed description of the bill's divisions with the House amendments. This bill is in the Senate with significant house changes to consider. UEN is still registered opposed.
SF 391 Governor's Chapter 12 Flexibility: this is the bill that eliminates the CSIP, changes offer and teach requirements, lowers the number of fine arts and world language courses that must be offered for accreditation, and makes other changes. This bill is in the Senate with minor House changes to consider. UEN is still registered in support.
HF 604: Disruptive Students and Ombudsman Complaints: see the March 23 UEN Weekly Report for a detailed description. We anticipate the bill will be heavily amended when considered on the Senate Floor if it moves forward. Now on the Senate Calendar. UEN is opposed to the bill in its current form.
HF 430: Mandatory Reporters and BOEE: see the March 23 UEN Weekly Report for a detailed description (or read the provisions above that were amended on to SF 496. We expect the bill to be amended when considered on the Senate Floor. Now on the Senate Calendar. UEN is opposed to the bill in its current form, primarily because of the change in the BOEE make-up and the requirement that school districts.
There are other smaller bills still awaiting action. See the April 6 UEN Weekly Report for the complete list.
Last Legislative Deadline:
The next important deadline is April 28, when legislative per diem runs out. Legislators like to finish up by that time, although they can and often do run over. There is a lot still on their plates, so we wouldn't be surprised to see this Session extended for a few weeks.
Advocacy Actions This Week:
Talk about Appropriations: Education Appropriations should be increased to support student mental health services, therapeutic classroom grants and early childhood. Encourage both Representatives and Senators to actually appropriate the $10 million in the standings bill for high-needs school grants, rather than cutting this appropriation at the end of session.
Support and Amend SSB 1208 ESA Clean-up conversations. Money should follow students back to the public school if they weren't counted the prior October 1.
Advocate with your Reps and Sens to improve these bills. Key messages:
SF 496 Governor's Transparency/Parents' Rights Now in the House: this bill has improved, but still needs a few fixes. 1) Ask Senators to support the House's elimination of the Civics test, since there is no phase-in for this requirement. It is effective for graduations after July 1, 2023. Thank House members for removing the test so it is not a requirement for graduation and local districts are in charge of assessments. If Senators insist, ask for it to first apply to the freshman class of 2023-24, giving schools time to implement and students time to successfully master the content. 2) Advocate with House and Senate members to remove the provisions changing the make-up of the BOEE. Licensed educators want other licensed educators to be respectful and students and have no tolerance for bad apples. Having 50% of board members be parents/public members is unprecedented in professional licensure boards. 3) Ask House and Senate members to remove the Seizure Action and Training requirements. The health care trainings work group ought to first decide the process before expanding further trainings.
Encourage Flexibility: There are so many in the works; teacher recruitment and licensure flexibility, chapter 12 flexibility and efficiency, and bond language clean-up. Regarding SF 391 on Senate Calendar: ask Senators to refuse the House Changes and send the bill back to the House. There are many good things in that bill regarding district flexibility, offer and teach, and more local control (fewer state regulations). UEN is registered in support. See the March 9 UEN Weekly Report for details of the bill and the House Amendment.
Keep talking about Preschool and Poverty:
HF 297 PK Weighting: did not get out of House Education Committee, so it's technically dead for this year, but could be included in an appropriations bill and will remain alive for the 2024 Session. This bill would provide a 1.0 weighting for 4-year-olds in PK from families below 200% of the federal poverty level. Don't give up. Talk with your House members about the return on investment of quality PK, improved outcomes for students, parents able to join the workforce, which helps employers and may free up childcare slots currently in short supply, and saves taxpayers money down the road (less special education, more high school graduation, more productive and less dependent adulthood). Find the UEN Issue Brief linked here: https://www.uen-ia.org/system/files/Public/IssueBriefs/UEN%20Issue%20Brief%20Preschool%202023.docx

HF 477 Poverty Study: this bill was introduced too late to have a subcommittee meeting before the funnel deadline. It has bipartisan sponsorship (Reps. Siegrist, Mattson and Sorenson). The bill reintroduces the conversation that started with the 2019 Interim School Finance Committee, which received unanimous bi-partisan support at that time, to have Iowa study what other states do to meet the needs of students from low-income families, close the achievement gap, and fund those costs through the formula. Find the UEN Issue Brief linked here: https://www.uen-ia.org/system/files/Public/IssueBriefs/UEN%20Issue%20Brief%20Poverty%202023.docx
Connecting with Legislators: To call and leave a message at the Statehouse during the legislative session, the House switchboard operator number is 515.281.3221 and the Senate switchboard operator number is 515.281.3371. You can ask if they are available or leave a message for them to call you back. You can also ask them what's the best way to contact them during session. They may prefer email or text message or phone call based on their personal preferences.
Find biographical information about legislators gleaned from their election websites on the ISFIS site here: http://www.iowaschoolfinance.com/legislative_bios Learn about your new representatives and senators or find out something you don't know about incumbents.
Find out who your legislators are through the interactive map or address search posted on the Legislative Website here: https://www.legis.iowa.gov/legislators/find
UEN Advocacy Resources: Check out the UEN Website at www.uen-ia.org to find Advocacy Resources such as Issue Briefs, UEN Weekly Legislative Reports and video updates, UEN Calls to Action when immediate advocacy action is required, testimony presented to the State Board of Education, the DE or any legislative committee or public hearing, and links to fiscal information that may inform your work. The latest legislative actions from the Statehouse will be posted at: www.uen-ia.org/blogs-list. See the 2023 UEN Advocacy Handbook, which is also available from the subscriber section of the UEN website.
Contact us with any questions, feedback or suggestions to better prepare your advocacy work:
Margaret Buckton
UEN Executive Director/Legislative Analyst
margaret@iowaschoolfinance.com
515.201.3755 Cell
Thanks to our UEN Corporate Sponsors
Special thank you to your UEN Corporate Sponsors for their support of UEN programs and services. Find information about how these organizations may help your district on the Corporate Sponsor page of the UEN website at www.uen-ia.org/uen-sponsors.