Capitol Update - January 19, 2023
UEN Legislative Update
Jan. 19, 2023
Download the Printable Version of the January 19, 2023 UEN Capitol Update Report
In this UEN Weekly Report from the 2023 Legislative Session, find information about:
School Choice Committee Action in both Chambers

State Budget Impact of HF 68/SF 94

Governor's Budget Recommendation: Highlight on Surpluses

Subcommittee Action on Other Bills

Bills Introduced and Subcommittees Assigned

Advocacy Action Steps for This Week

Links to Advocacy Resources

Members of the House and Senate Education Committees and the House Education Reform Committee
Quick Committee Action in House and Senate on School Choice: Bills (new numbers) are being considered in the House HF 68 and Senate SF 94 on Education Savings Accounts. Action is expected next week in both House and Senate Chambers.
Having been considered and approved on party lines by the Senate Education Committee on Jan. 18 and the Senate Appropriations Committee on Jan. 19, SF 94 (formerly SSB 1022) moves to the Senate Calendar. The bill could be referred to the Senate Ways and Means Committee since the Education Savings Account payment is exempted from Iowa income tax in the bill.
In House Committee action, following Tuesday's public hearing, the Education Reform Committee met on Wed., Jan 18 and approved HF 68 (formerly HSB 1) on party lines.
HR 3, also on the House Calendar, exempts bills from the Education Reform Committee from Appropriations and Ways & Means steps, meaning the House could debate early next week as well.
See the updated UEN Call to Action from 1/19/2023, with updated key messages and links to legislator contacts. See the Jan. 13 UEN Weekly Report for a bill description and some technical concerns. UEN is registered opposed.
State Budget Impact of HF 68/SF 94: Note: the LSA's Fiscal Note is not yet complete, so this analysis is our best estimate based on the Governor's Budget Brief and Governor's staff communications to the media.
The bill creates a standing unlimited appropriation, which means that for every Education Savings Account granted, the state will appropriate $7,598. The bill contains no caps on enrollment, so whatever number of eligible requests are granted, will be funded.
In the fiscal year following receipt of an ESA, the school district of residence will count the private school student in fall enrollment for purposes of categorical funding for TSS, PD, EICS and TLC. This is estimated to generate $1,205 on average per private school student with the ESA for school districts of residence.
School districts retain spending authority for the first year after the student enrolls in the private school with the ESA. The Oct. 2023 headcount will show the reduction in public school enrollment. The July 1, 2024 fiscal year will realize the funding reduction, estimated at $10,500 per public school pupil using the ESA to attend private school. After the $1,200 categorical funds retention, the net is a loss of $9,300 per pupil. State impacts, the estimated number of students participating and eligibility criteria are included in this table. FYI: for the 2022-23 school year, there are 33,075 K-12 student enrolled in accredited nonpublic schools.
 

Fiscal Year

Annual est. Approp (in millions)

Cumulative Total est. Approp

Annual Students with ESA

 

Cumulative Total Students

 

 

Eligibility

 

 

 

 

 

 

2023-24

$106.9

$106.9

14,068

14,068

All kindergarten, All Public, Current Privates < 300% FPL

2024-25

$156.2

$263.1

5,995

20,063

All kindergarten, All Public, Current Privates < 400% FPL

2025-26

$313.9

$577.0

19,989

40,052

All K-12 Students

2026-27

$341.0

$918.0

2,948

43,000

All K-12 Students
Governor's Budget Recommendation Highlight on Surpluses:  
(source LSA's  Preliminary Analysis of the Governor's Budget and Recommendations — FY 2024)
The Governor's FY 24 Estimated Budget Recommendation leaves a surplus of $1.998 Billion, since the total appropriated general fund dollars are well below the expenditure limitation.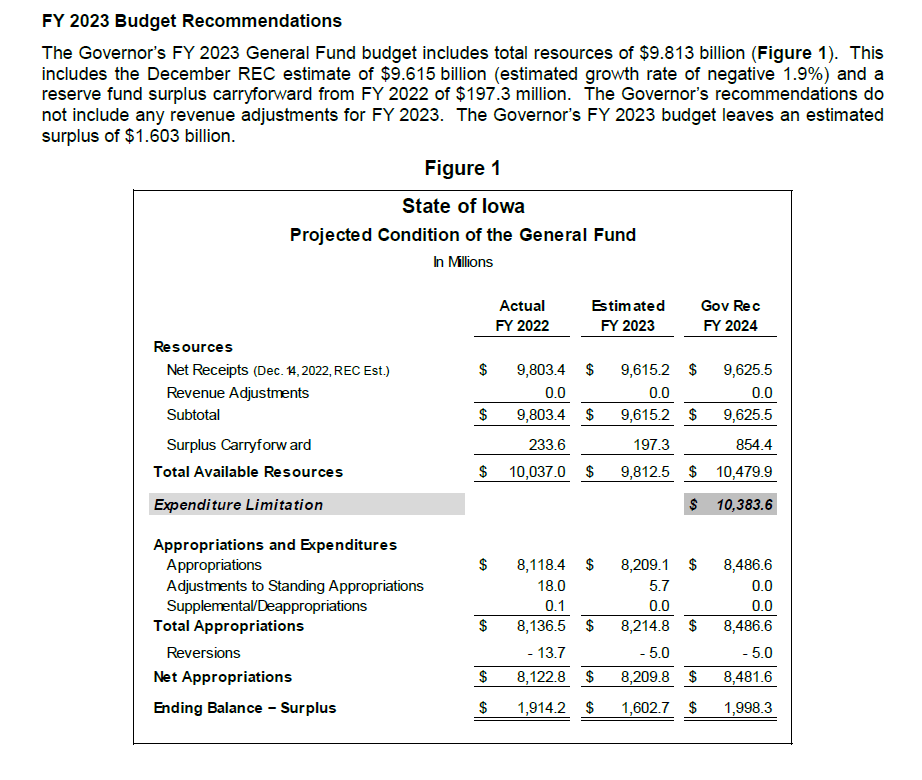 Figure 3 (below) shows the combined state reserve funds approaching $1 Billion: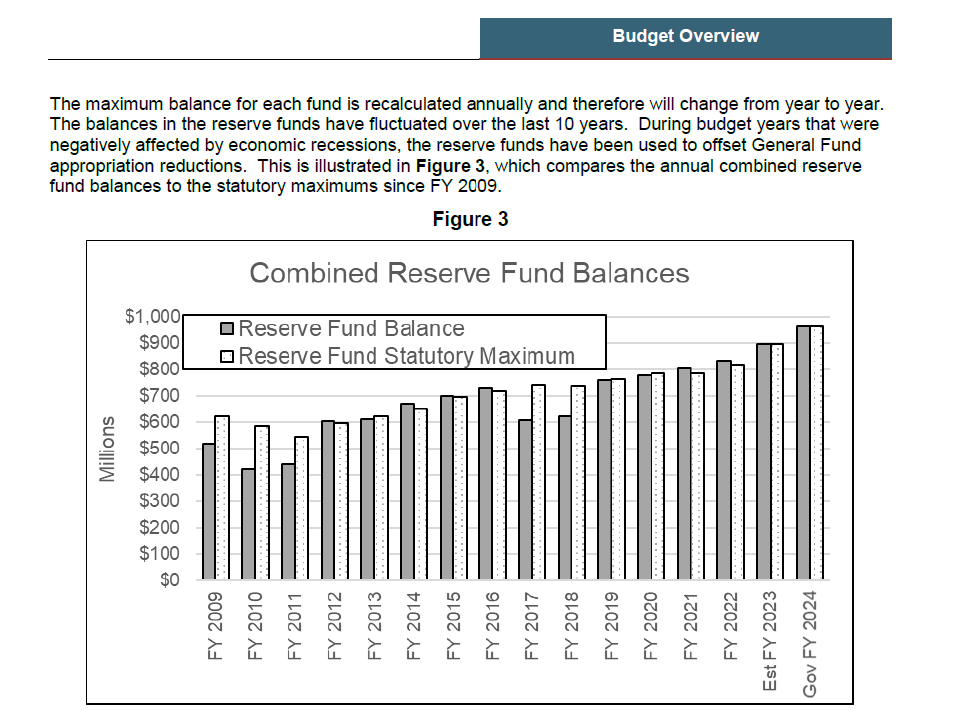 The Governor's Recommendation Budget for FY 2024 anticipates ending balance of the Taxpayer Relief Fund: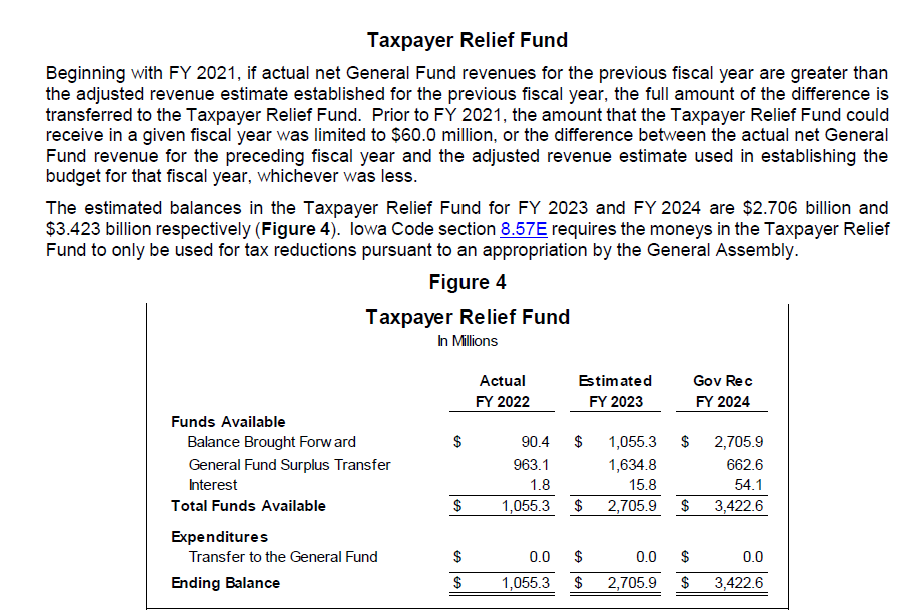 Subcommittee Action:
House Education Committee
HF 10 School Abuse: Requires mandatory reporters to report abuse of children over the age of 12. Requires the DE to develop for reporting on and investigating a school employee with an authorization, license or certification who may have committed certain felonies or acts. Establishes immunity for the school board or school authorities for discussing such incidents. Requires the BOEE to assess civil penalties against administrators for failures to follow the established process or for concealing an incident. Includes additional grounds for the BOEE to disqualify applicants or to revoke licenses. Requires the BOEE to notify schools about investigations and to investigate administrators. Requires schools to contact the BOEE about potential hires to determine if the person has been the subject of a complaint or investigation. Subcommittee of Reps. Boden, Gustoff, and Staed agreed to move the bill forward to the full committee with an amendment to the process of schools contacted BOEE to determine is a prospective employee has a pending investigation to instead, require school districts to verify investigation status on a spreadsheet which will include those cases where sufficient evidence is found to warrant staff recommendation to BOEE to consider licensure. UEN is undecided.
HF 12 School Government Curriculum: Requires that comparative discussions of political ideologies that conflict with the ideas of freedom and democracy essential to the founding of the US be taught in HS government class. Subcommittee of Reps. Holt, Buck, and Hora met and moved the bill forward to the full House Education Committee. UEN expressed to the subcommittee our preference that the DE convene a standards and curriculum review of social studies content during the normal standards review cycle instead of the legislature mandating content. UEN is registered undecided.
Senate State Government Committee
SF 49 School Bond Elections: Limits school bond election to the Regular School Election, every other November in the odd year. Subcommittee of Salmon, Cournoyer, and Weiner met. After discussion, the bill did not move forward. UEN is opposed.
Bills introduced:
HF 40 World Language Pilot Program: Requires the DE to establish a world language education pilot program in two elementary schools, with appropriations for each of two years. Subcommittee of Fry, Holt and Madison was assigned. UEN is undecided.
Legislative Session Timeline: Posted on the Legislative website here: https://www.legis.iowa.gov/docs/publications/SESTT/current.pdf
Advocacy Actions This Week
Shore up Education Savings Account Opposition: See the UEN Call to Action from 1/19/2023 for more information, but in short: Circle back with your legislators who've previously told you they opposed ESAs and reiterate key messages:

ESAs shift funds from public schools to private schools, limiting or eliminating programs and opportunities for students in public schools.

This program will cost between $300-$400 million, phased in at a time when historical tax cuts are estimated to lower state general fund revenues by 20%. If the legislature overextends (not just this proposal but also significant property tax relief), public schools will not be adequately funded.

Vouchers don't offer parents real choice. Private schools pick and choose who they accept. Public schools accept ALL students.
Almost 75% of public schools are in rural areas with little to no access to private schools. Most families will be excluded from participating in a voucher program

.

Vouchers increase costs by creating two competing school systems. This is likely to reduce resources for public schools, which educate 90% of students. Public schools are accountable and transparent to the parents, the community they serve, and the taxpayers who fund them. Private schools do not have the same state requirements for accountability and transparency or oversight by taxpayers.

The Governor's 2024 Proposal is a costly and expansive voucher program.

Iowa already has many parent choice options.


 
Connecting with Legislators: To call and leave a message at the Statehouse during the legislative session, the House switchboard operator number is 515.281.3221 and the Senate switchboard operator number is 515.281.3371. You can ask if they are available or leave a message for them to call you back. You can also ask them what's the best way to contact them during session. They may prefer email or text message or phone call based on their personal preferences.
Find biographical information about legislators gleaned from their election websites on the ISFIS site here: http://www.iowaschoolfinance.com/legislative_bios Learn about your new representatives and senators or find out something you don't know about incumbents.
Find out who your legislators are through the interactive map or address search posted on the Legislative Website here: https://www.legis.iowa.gov/legislators/find
UEN Advocacy Resources: Check out the UEN Website at www.uen-ia.org to find Advocacy Resources such as Issue Briefs, UEN Weekly Legislative Reports and video updates, UEN Calls to Action when immediate advocacy action is required, testimony presented to the State Board of Education, the DE or any legislative committee or public hearing, and links to fiscal information that may inform your work. The latest legislative actions from the Statehouse will be posted at: www.uen-ia.org/blogs-list. See the new 2023 UEN Advocacy Handbook, which is also available from the subscriber section of the UEN website
Committee Members:
House Education Committee Members
House Education Reform Members
Senate Education Committee Members
Contact us with any questions, feedback or suggestions to better prepare your advocacy work:
Margaret Buckton
UEN Executive Director/Legislative Analyst
margaret@iowaschoolfinance.com
515.201.3755 Cell
Thanks to our UEN Corporate Sponsors:
Special thank you to your UEN Corporate Sponsors for their support of UEN programs and services. Find information about how these organizations may help your district on the Corporate Sponsor page of the UEN website at www.uen-ia.org/uen-sponsors.