Capitol Update - April 8, 2022
UEN Legislative Update
April 8, 2022
Week Thirteen of the 2022 Session: Rank and file legislators were sent home Wednesday as Leadership and the Governor work out compromises. It is unknown when they will return to finish up the Session. Budget bills are through the House and still awaiting action in the Senate. House and Senate have different policies on transparency. Several bills to address teacher shortages hang in the balance, tied up with the Governor's school choice voucher legislation. A little blip amended into the Future Ready Workforce bill could negatively impact BOEE's ability to license teachers timely. This UEN Weekly Report from the 2022 Legislative Session includes:
Voucher Bill Status and Details

Teacher Shortage Bills Status

Appropriations Bill Status

Workforce Development Provisions Impacting Schools and BOEE

Bills on the Move

Transparency Policy Comparisons: Governor's Proposal, House and Senate

Advocacy Actions and Links to Advocacy Resources
SF 2369 Governor's School Choice/Voucher Omnibus: the Senate amended the bill with a strike after amendment on March 30 that effectively re-enacts much of the bill, strikes some ideas and adds other content. UEN remains registered opposed to this bill. The bill is currently assigned to the House Appropriations Committee. It does not, at this time, appear to have the votes, at least with the bill in this form, to move it forward. Negotiations behind the scenes with Leadership and the Governor's office are ongoing. UEN is registered opposed to the bill. Details of the bill as amended by the Senate and UEN position on each provision follow:
Education Savings Accounts: up to 10,000 vouchers (5,000 for students with IEPs and 5,000 for students from families below 400% of the federal poverty level, incoming kindergarteners, and for prior ESA recipients down the road). A NOBA (LSA's Notes on Bills and Amendments which highlights fiscal impact) published on the bill estimated that this provision would reduce school funding to public schools by $79.1 million, would maintain and estimated FY 2023 state General Fund appropriations of $55.2 million for Students First Scholarships, and increase a new standing unlimited appropriation of $23.9 million for the Students First Operational Sharing Incentives Fund for expanded operational sharing for districts at the 21 student cap, but sets up a new bureaucratic application process through SBRC for the additional 3-student weighting. UEN opposed this provision.
Good Cause Open Enrollment: for siblings and step-siblings of students granted a good cause open enrollment. UEN is undecided on this provision.
Home School Special Education: allows a student enrolled in competent private instruction to dual enroll for special education services without specific permission from the AEA special education services director. UEN is undecided on this provision.
Social Studies/Civics: mandates the test used by the Immigration and Naturalization Service for Citizenship be the test for high school government and requires that a student score at least 70% on that test in order to graduate. Allows students to take the test multiple times. Requires public and nonpublic schools to report scores annually. Does not mention the ability to make accommodations for any students. UEN is opposed to the high-stakes graduation requirement in this division.
Transparency and Library Books: strikes the Governor's school transparency and librarian provisions. Adds provisions similar to SF 2205 - Creates a parental bill of rights in regard to school matters. Requires that the parents have access to information on who is teaching a child, on what the child is being taught, the right to review information and records, reasonable access to the student during the school day, and on other matters, except where prohibited by law. Prohibits schools from requiring students to engage in an activity that involves the viewing of sexually explicit material, allows parents to request their child not check out specific material from the library. UEN prefers some of the Senate's language to the House's Transparency bill HF 2577.
Mandatory Reporter and Incidents: adds language from HF 2567 - Requires certain mandatory reporters of child abuse to report such abuse regardless of the age of the child. Requires school employees who believe that another school employee is responsible for the injury to report that employee. Requires the DE to develop a process for reporting/investigating incidents where a teacher or licensed professional may have broken a law. Includes immunity provisions for school boards (no litigation for sharing information about a past employee with a potential employer or government agency.) Requires records be kept of incidents but does not make those open records. Establishes civil penalties for administrators who fail to follow procedures. BOEE: Requires the BOEE to suspend teachers who are convicted of aggravated misdemeanors. Requires BOEE to adopt rules on complaint records and giving notice of investigations to schools. Requires districts to check a licensure database to confirm if there is a pending investigation with probable cause prior to hiring a licensed educator. UEN supports this provision with the improved process of verification from the BOEE.
Praxis: adds language from HF 2081 - Strikes the ability of colleges to administer a pre-professional assessment to teaching candidates (Praxis) and the requirement to use a subject assessment from a national testing program for licensure. Applies to students in teacher education programs on or before the effective date of the bill. Increases requirements for pre-teaching field experience for student teachers to 80 hours and 50 hours for teaching interns. UEN supports this provision.
Operational Sharing: adds new sharing incentives for small school districts funded with the equivalent of 30% of the regular program district cost in a Student's First Operational Sharing Fund (allows up to 24 student weighting which is an increase of 3, but with a new process to request SBRC approval and requirement to demonstrate the need for the position if the current 21-student cap is exceeded, and extends Operational Sharing through July 1, 2034). Also adds SRO position at a weighting of 3 students (which is later in the statute lowered to a weighting of 2 students). UEN is undecided on extending these sharing incentives, but definitely opposes the voucher funding source and the bureaucratic hurdle of the SBRC approval process.
Advanced Degrees CEUs: allows master teachers to renew credentials without additional CEUs (except for evaluator training) based on the verification from their evaluator that they participated in PD. From HF 2398. UEN supports this provision.
Bills to Address Teacher Shortage:
The following bills would help to address staff shortages, if approved. This table provides a brief description of the bills, UEN registration, and a notation of where they are in the process.
Bill Number

Bills to Address Teacher/Substitute Shortage

 and Alternative Licensure

Status as of (4/7/2022)

IPERS Income Threshold for Re-employment is increased to $50,000. School board member conflict of interest threshold is increased to $20,000. UEN supports.

Signed by the Governor

 

Para-educators may substitute in any classroom except Drivers' Education with a waiver from BOEE 2021-22 school year (ARRC). Requires the individual be paid the higher of the substitute per diem or their para wage. Approved in the House 99:0 and in the Senate 47:0, sending it to the Governor. (Currently, Administrative Rules are in place.) UEN supports.

 

To the Governor

Teach Iowa scholar program eligibility, Teacher Intern license for grades 6-12 issued by the BOEE, and the use of revenues from the district management levy for teacher recruitment costs (limited to 10% of minimum teacher pay per teacher, no more than five years, and either early retirement or teacher recruitment each 5-year period). UEN supports.

House Calendar

Allows school boards to engage certain specified individuals to serve without compensation as substitute teachers. Approved in the Senate 38:7, on 2.28.22. UEN is undecided.

House Calendar

Last Dollar Scholars: makes part-time students eligible for Last Dollar Scholars financial support. Approved 99:0 in the House on 3.2.22. Attached to companion SF 2129 on the Senate Calendar. UEN supports.

Senate Calendar

Changes eligibility for Teach Iowa Scholar Program (no longer must be in the top 25% of class) and specifies that half of the grants go to teachers in districts, charter and private school below 1,200 enrollment and half above. (Note difference: Senate raised the 25% threshold to 30%. The House completely eliminated it.)  UEN supports.

Senate Calendar. (Also amended onto Governor's School Choice    SF 2369)

Eliminates the requirement for PRAXIS test for entry to college education program and requires higher education institutions to notify graduates with PRAXIS scores below the cutoff that they may apply for an initial license.
Passed the House 94:0 on 2.28.22. UEN supports.

Senate Calendar. (Also amended onto SF 2369)

Permanent Teacher License for master's or doctoral degree educators (no CEU's required). Requires charter schools and private schools to conduct background checks, adds a minimum ten-year work requirement for these teachers before waiving future licensure renewals, requires the BOEE to do a background check on permanent teachers every five years and allows BOEE to charge a reasonable fee for the background check. Approved 99:0 in the House. UEN is undecided.

Senate Calendar

(Also amended onto SF 2369)
Status of Appropriations: The following table from the IALNS Bulletin, April 7, 2002, shows the progress of appropriations bills, all of which have been approved by the House with no action in the Senate. The only remaining budget bill not discussed in the House is the Standings Appropriations bill, which includes state foundation aid, typically introduced as the last budget bill of the Session. See last week's report for details of the Education Appropriations Bill HF 2575.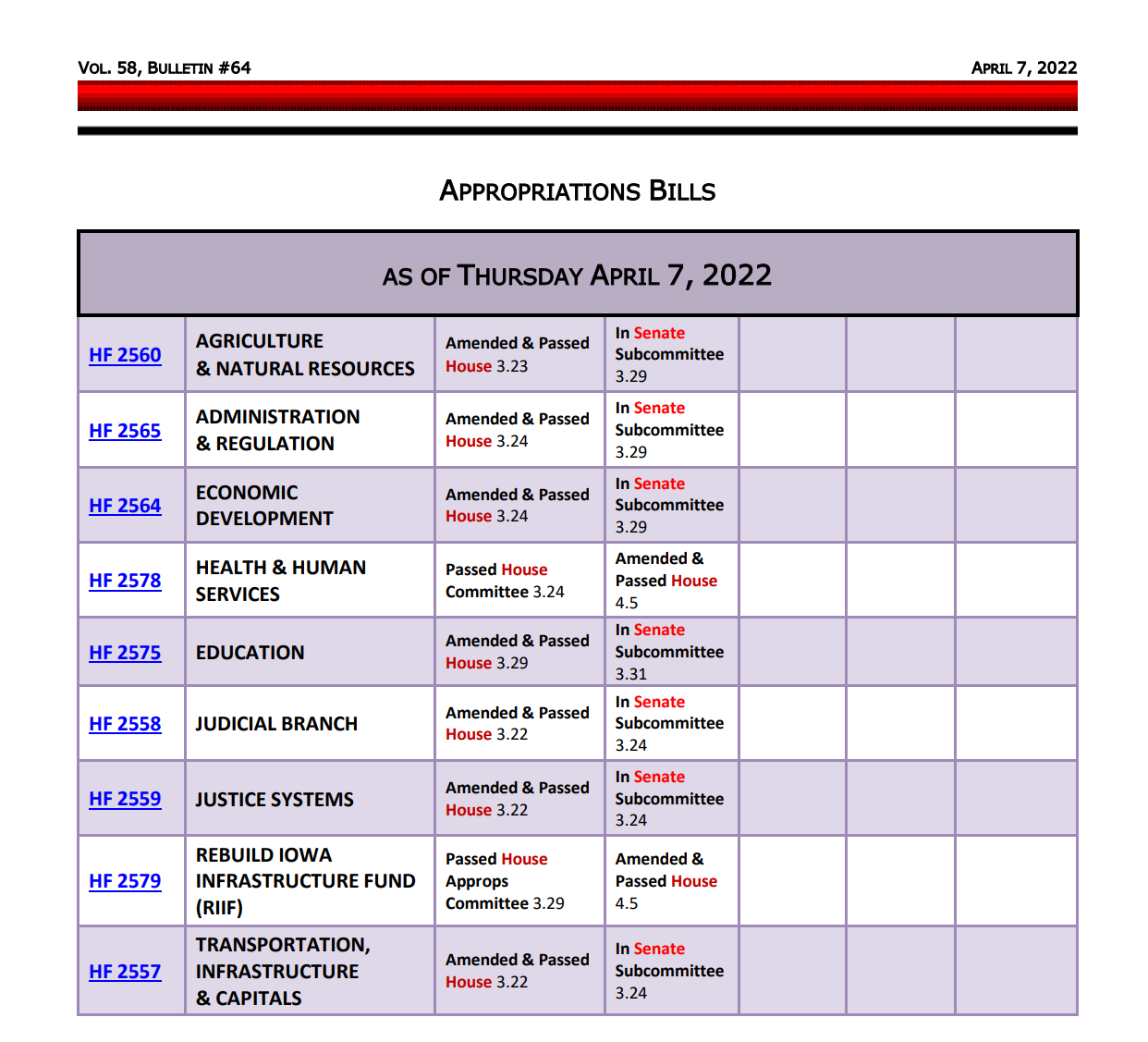 Workforce Development Bill SF 2383 Impact on Education: this bill was amended and approved by the Senate, sending it to the House, which has a similar version on the House Calendar. The bill has many provisions unrelated to school districts and teachers, but the following provisions have an impact on students and schools:
Division II Work-based Learning: requires the State BOE to adopt rules to establish and maintain a process that requires the school districts to report to the DE at least annually regarding student participation in work-based learning programs established by school board, including registered apprenticeships, quality pre-apprenticeships, internships, on-the-job training, and projects through the Iowa clearinghouse for work-based learning.
Requires BOEE to develop a new credential for a "Work-based learning program supervisor," which means a person certified pursuant to section 272.16 to supervise students' opportunities and experiences related to workplace tours, job shadowing, rotations, mentoring, entrepreneurship, service learning, internships, and apprenticeships.
8th Grade Career Plan: Requires the plan which identifies the coursework to also include work-based learning needed in grades nine through twelve to support the student's postsecondary education and career options. Also requires school districts, prior to graduation, to advise students on how to successfully complete the free application for federal student aid (FAFSA).
BOEE Fee Waivers: An amendment in the Senate now requires the BOEE to waive licensure (and background check) fees for a new license application for any individual with income below 200% of the federal poverty level. The bill also requires an initial fee waiver and one renewal fee waiver for an individual honorably or generally discharged from federal active duty or national guard duty within five years of discharge. (See page 12 lines 27 through page 13 line 4, of the bill.) UEN is registered as undecided on the original bill, but has concerns about the BOEE fee waiver impact on the BOEE's ability to timeline process licensure application and renewals, negatively impacting the timeline to hire new staff.
Bills on the Move
HF 604 Deaf Language and Literacy Development: The bill requires the DE to work with the state school for the deaf, school districts, accredited nonpublic schools, AEAs, parents and the early hearing detection and intervention program in the Department of Public Health to coordinate, develop and disseminate resources for use by parents to inform deaf and hard-of-hearing children's expressive and receptive language acquisition and development. The bill addresses assessments, supports, resources for educators and parents, and establishes a parent mentoring program contingent on appropriation. The Senate amended the bill, approved it unanimously, and the House unanimously agreed to the Senate amendment, sending it to the Governor. UEN is registered as undecided.
SF 2366 Wind Energy Assessment and Taxation: this bill regulates wind energy conversion property, including the requirement that repairs on wind towers do not reset the clock on the increase in taxable valuation is the wind farm is in a tax increment finance district. The bill was approved by the Senate and the House agreed, 91:5, sending it to the Governor. UEN supports the bill.
SF 2377 Teacher Recruitment Policies: this bill changes eligibility for grants under the teach Iowa scholar program (increases the threshold for academic eligibility from graduating in the top 25% of the class to the top 30%), creates a fast-track teacher intern license issued by the BOEE, and allows the use of revenues from the district management levy for a teacher recruitment plan approved by the school board. Last week, the Senate approved the bill with limitations to the teacher recruitment plan, that the plan could not pay a teacher more than 10% of the statutory minimum teacher salary annually ($3,350) or for more than five years, and that the board could only use either the early retirement plan or the teacher recruitment plan for any 5-year period. We are working with the House to remove or moderate the limitations. The House Ways and Means Committee passed the bill, moving it to the House Calendar. UEN supports the bill.
SF 2383 Future Ready Workforce: this bill by the Governor was amended and approved by the Senate this week, sending it to the House Ways and Means Calendar, where it will be considered alongside HF 2569. See details above. UEN is registered as undecided on these bills.
Policy Comparisons Various Transparency and Parent Rights' Legislation: We have received many questions about the various transparency and parents' rights legislative proposals this year, especially given media coverage and changes along the way. ISFIS shared a comparison analysis of the three proposals that can be found on the ISFIS Webinar webpage here: Transparency Proposal Comparison Table. In short, the three proposals include:
The Governor's proposal was heavy-handed and overreaching in requiring every instructional material, lesson plan, etc., posted on the district's website prior to the beginning of the semester and financial sanctions for noncompliance. The fiscal analysis of the bill made this statement about unfunded compliance costs of transparency: "School districts would need to provide classroom coverage for the time teachers would need to prepare materials for posting or add additional contract days for completion of the work. If substitutes are used rather than additional contract days, the statewide cost to school districts is estimated to be $27.4 million." These provisions have been heavily amended by both the House and Senate.
The House's version, HF 2577 Transparency, was approved by the House on March 29 and is in the Senate. A Fiscal Note was published this week which estimates the training costs of the House's plan to be at least $16 million for substitute time, allowing teachers to identify materials, be trained on the instructional management software, and upload the materials for parents to access. The analysis also suggested some staff and support would likely be necessary to aid both teachers and parents to access the system, but could not estimate a cost to that support. It is also unknown how many school districts already have purchased software that would be compliant. The media incorrectly reported after the passage of this bill that lesson plans would have to be uploaded. This bill has a narrower, and we think, workable definition of instructional materials. This version also requires schools to administer a civics test to high school students and report the results annually to the DE, but does not require a student to achieve a sufficient score on the test to graduate.
The Senate's version, SF 2205 Parents' Rights, was approved by the Senate Education Committee in early February, remained on the Senate Calendar, but was rereferred back to the Education Committee in late March. This version primarily codifies what many school districts are already doing, provides some time before compliance is mandated for new provisions, and also defines "sexually explicit content," and prohibits schools districts from allowing students to access it without written parent permission. The text of SF 2205 was amended onto the Governor's School Choice Omnibus bill, SF 2369, to replace the Governor's proposed language, on March 30. Although SF 2205 did not address civics, another division of SF 2369 requires schools to administer a civics test to high school students and report the results annually to the DE, and also requires students to score at least 70% on the test to graduate.
As Leadership works out various compromises to adjourn the Session, our best guess is that both chambers agree to the Senate's language or a combination of the House and Senate versions.
Advocacy Actions This Week:
Find Representatives here: https://www.legis.iowa.gov/legislators/house
Find Senators here: https://www.legis.iowa.gov/legislators/senate
Check out your new legislative district and primary candidates for the Nov. 2022 election. Enter your address in this new map lookup tool on the legislative website to confirm your House and Senate district numbers: https://www.legis.iowa.gov/legislators/redistricting. Find names, phone numbers and home email addresses for primary candidates on the Iowa Secretary of State's website, which publishes this information in a pdf found here: https://sos.iowa.gov/elections/pdf/Candidates/primarycandidatelist.pdf

.

Call them or send them a note, introduce yourself, offer to be a resource for them on education issues, and let them know what they can do to best represent and support the students, families and staff in your school district.
Connecting with Legislators at the Statehouse: To call and leave a message for a Senator, call the Senate switchboard operator number is 515.281.3371. To call and leave a message for a representative, the House switchboard operator number is 515.281-3221. You can ask if they are available or leave a message for them to call you back. You can also ask them what's the best way to contact them during Session. They may tell you email, text message or phone call is the best way to connect with them during the Session, based on their personal preferences.
UEN Advocacy Resources: Check out the UEN Website at www.uen-ia.org to find Advocacy Resources such as Issue Briefs, UEN Weekly Legislative Reports and Weekly Capitol Video Updates, UEN Calls to Action when immediate advocacy action is required, testimony presented to the State Board of Education, the DE or any legislative committee or public hearing, and links to fiscal information that may inform your work. The latest legislative actions from the Statehouse will be posted at: www.uen-ia.org/blogs-list. See the 2022 UEN Advocacy Handbook, which is also available from the subscriber section of the UEN website.
Contact us with any questions, feedback or suggestions to better prepare your advocacy work:
Margaret Buckton
UEN Executive Director/Legislative Analyst
margaret@iowaschoolfinance.com
515.201.3755 Cell