Capitol Update - February 9, 2023
UEN Legislative Update
Feb. 9, 2023
Download the full UEN February 9, 2023 Written Report
This UEN Weekly Report from the 2023 Legislative Session includes:
SSA Bill Signed by the Governor

Dropout Prevention Equity Passes a Hurdle

HSB 138 Rolls Back Private School Accountability

SF 251 Limit on Administrative Expenses (5%)

SSB 1049 Teaching Recruitment/Management Fund

Property Tax Bills

Subcommittee and Committee Action on Other Bills

Advocacy Action: School Choice Clean-up Requests, Understanding Administrative Costs and Supporting Flexibility

Links to Advocacy Resources

Members of Important Education Committees
School Funding: SSA Bills through the Senate and in the House
SF 192 SSA Per Pupil Funding Increase: this bill was approved by the House 59:40 and signed by the Governor on Tuesday, setting a 3% increase in the State Cost per Pupil. See last week's Feb. 2 report for all of the fiscal details of the bill. UEN was registered as undecided.
Dropout Prevention Equity Clears the Senate Education Committee
SF 246 Dropout Prevention Equity: this bill was approved by the Senate Education Committee unanimously this week. The bill phases in districts with lower DoP caps (as low as 2.5%) up to the highest cap of 5% over several years. We testified at the Subcommittee that this was a small start in addressing the needs of at-risk students, but we still need a poverty factor in our funding formula and funding of the High Needs Schools Grants first appropriated (but always delayed by a year so never funded) beginning in 2014. UEN is registered in support.
Private School Accountability is Pealed Back
HSB 138 Private School Testing Rollback: this bill amends what was enacted in HF 68 just two weeks ago, which required students receiving education savings accounts to participate in mandated state and federal testing. This bill allows parents to opt students out of the state-mandated tests, including early literacy assessment and progress monitoring (public school parents are not allowed to opt-out). Background: Iowa Code 279.68 requires the public schools to provide the initial screeners and then the progress monitoring assessments for students at-risk of not reading proficiently and to assess regularly. Administrative rules require the assessment of all students. IAC 281 - 62. We have concerns that private schools could make opting out of the assessments a condition of enrollment, since HF 68 prohibits the state from interfering with any enrollment or academic policies of the private school. UEN is opposed to this bill.
SF 251 Limit on Administrative Expenses
SF 251 was approved unanimously by the Senate Education Committee. UEN is opposed to this bill. The bill goes into the current 279.45 Iowa Code, strikes the limitation on "executive administration" and replaces it with this definition: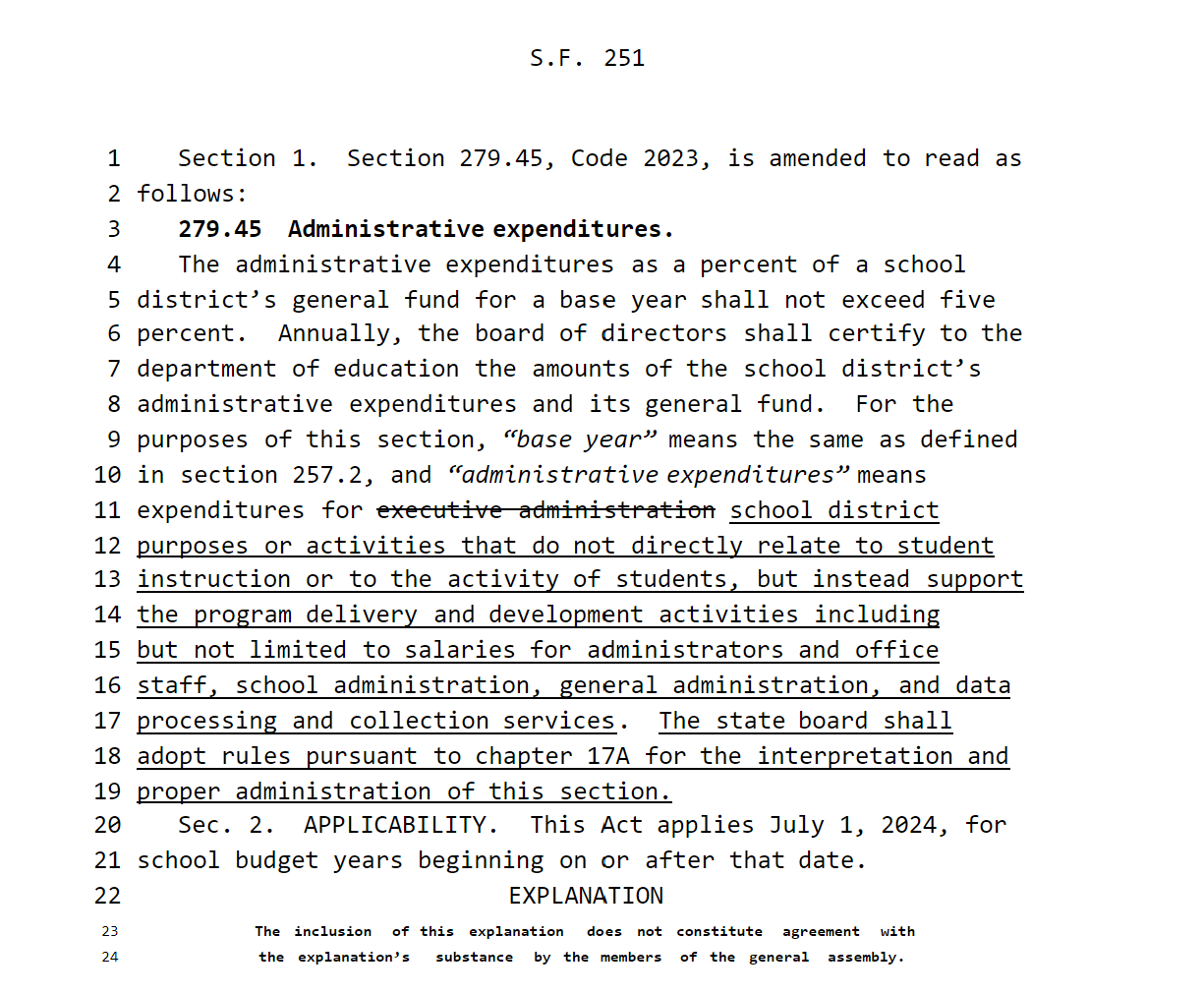 Questions for Senators:
What does "purposes or activities that do not directly relate to student instruction or to the activity of students" include?
Adding attendance center administration to executive administration (current law) would put many over the 5% mark, especially smaller districts.
Tracking hours to comply with these reporting distinctions might require detailed timesheets for staff.
What consequences will be imposed for exceeding the 5%?
Sen. Zaun mentioned during the Senate Education Committee debate that 3 other states have this law: CA, CO, IL. Here's what we've found out:
Illinois https://www.isbe.net/Pages/Limitation-of-Administrative-Costs.aspx: Illinois law specifies that budgeted administrative expenses cannot grow more than 5%. The bottom 25% of schools can pass a waiver by their school board after a public hearing to exceed the 5%. Chicago is exempted and has its own limitation. School district's budgeted administrative expenditures cannot increase more than 5% over their prior year actual administrative expenditures. The following functions are included under administrative expenditures:

2320 Executive Administration Services

2330 Special Area Administration Services

2490 Other Support Services - School Administration

2510 Direction of Business Support Services

2570 Internal Services

2610 Direction of Central Support Services

"Administrative expenditures" do not include early retirement or other pension system obligations required by law.
California: https://www.cde.ca.gov/ls/ex/dirctservguidance.asp: Their law has an 85/15 requirement for afterschool services, requiring 85% goes to direct services and no more than 15% for Administrative Costs to align with federal expectations. They also have the Gann Amendment, which limits growth in revenues controlling for enrollment change and inflation. https://www.cde.ca.gov/fg/ac/gl/ By the way, CA's 2022 formula provided $13,976 per pupil, which was an increase of $3,322 over the 2020-21 school year.
Colorado: We searched the Colorado Legislature's School Finance Manual and found no reference to a limitation.

We are waiting for confirmation from CO and CA colleagues with statutes and references to help you better advocate with your legislators.
SSB 1049 Teacher Recruitment Programs
SSB 1049 Teacher Recruitment Programs creates a teacher intern program, allowing teachers to obtain licensure in classrooms with support, getting on-the-job experience. The bill also expands the Teach Iowa Scholar loan forgiveness program and creates a Teacher Recruitment program opportunity paid by the district's management fund. Districts who use management funds for teacher recruitment cannot offer an early retirement program at the same time. UEN is registered in support. The language in this bill was approved by the Senate last year, and was also approved in House Education and Ways and Means Committees. Next stop this year is the Senate Calendar.
Property Tax Bills
SF 181 Valuation Error Fix. The rollback was calculated incorrectly this fall. Actual Residential Rollback should have been 1.9% lower than what it was which has the effect of overstating property values in the budget system. This means the tax rate displayed is lower than what it will be once fixed. The bill requires the appropriate state and county authorities to implement the correction. The bill extends the budget certification deadline to April 30 and allows for local governments to recertify if they previously certified their budget before these changes are implemented. The bill is on the House W&M Committee agenda Thursday and will likely be debated in the House early next week, sending it to the Governor. UEN is monitoring this bill.
Committee Action This Week
HF 255 Teaching Licenses: requires the BOEE to issue temporary initial teaching licenses to candidates who complete an alternative certification program. Requires the BOEE to issue teacher intern licenses to candidates who complete a qualified college program for teacher interns. Requires the BOEE to allow a teacher intern to apply for a teaching license on the recommendation of the employing school and the college program. Strikes requirements for an applicant for a regional license be an Iowa resident if the applicant has an Iowa job offer. Requires the BOEE to allow a candidate to be issued CTE authorizations before receiving a job offer. Requires the BOEE to issue temporary initial teaching licenses to candidates with an undergraduate degree who successfully complete an alternative certification program. Requires alternative teaching programs to operate in at least five states and for at least ten years. This requirement specifically applies to the American Board for Certification of Teacher Excellence, which allows a teaching certificate via online study but does not require student teaching or classroom experience. UEN specifically opposes this provision. Requires the BOEE to treat candidates who have completed these programs and who receive an initial license in the same manner as those who finish traditional programs. Imposes the same requirements on candidates with a temporary license seeking further licensing that are required of candidates with an initial license. Approved 15:8 by the Education Committee. Moves to the House Calendar. UEN is registered in opposition.
HF 252 Comprehensive Transition Scholarships: requires the College Student Aid Commission (CSC) to develop a scholarship program for individuals over 18 who have intellectual, development or learning disabilities and who are enrolled in a comprehensive transition program postsecondary program. Requires the CSC to develop criteria for the program and to adopt rules. Approved by the Education Committee 22:0. On the House Calendar. UEN supports.
HF 253 Charter Sports: allows a student attending a charter school to participate in athletics and extra-curriculars at the student's district of residence if the charter school does not offer the activity. Counts the student in the school enrollment as 0.1 weighting for funding. Requires the state Board of Education to adopt rules. Approved by the Education Committee 23:0 and moves to the House Calendar. UEN is registered as undecided.
HF 256 BOEE Licensing Age: strikes the requirement that an applicant for a BOEE license be 21. This would allow a candidate with appropriate degrees or certification to be licensed regardless of age. Approved by the House Education Committee 23:0 and moves to the House Calendar. UEN is registered in support.
HF 244 Mental Health Practitioner Loan Program: requires the College Student Aid Commission to make loan repayments for MH practitioners using the MH loan repayment program at the end of each year. Prohibits the CSC from making further payments for a MH practitioner who fails to fulfill service obligations. Establishes provisions for proportional payments for part-time practitioners. Effective for loan repayments on enactment. On the House Calendar. See also SF 253 on the Senate Calendar. UEN supports these bills.
SF 247 MSA for Extreme Open Enrollment In: allows the School Budget Review Committee to approve a modified supplemental amount (spending authority) to schools if 35% of the students in the district are open enrolled into the district. Excludes online open enrollment. Approved by the Senate Education Committee 16:0. Moves to the Senate Calendar. UEN is undecided.
SF 248 Technology Impact Study: requires the DE and the DHS to convene a work group to study the impact of technology on students. Requires a report and recommendations by December 2023. Approved by the Senate Education Committee 16:0. Moves to the Senate Calendar. UEN is registered in support.
SF 250 Computer Science PD Grants: allows recipients of computer science professional development grants to use the money in the fiscal year of the grant through to September 30. Effective on enactment. Approved in the Senate Education Committee 16:0 and moves to the Senate Calendar. UEN supports.
SF 253 Mental Health Practitioner Loan Repayment Program: a companion to HF 244 above. Approved in the Senate Education Committee 16:0. Moves to the Senate Calendar. UEN supports.
Subcommittee Action:
SF 38 Achievement Gap Study: this bill requires the DE to create an achievement gap workgroup to study racial and ethnic achievement gaps, including causes and best-practice solutions. UEN had requested consideration of socio-economic status be added to look specifically at achievement gaps due to poverty. The senators explained that income will fall under the cause considerations. The bill specifies some members of the workgroup and requires a report by December 2023. UEN is registered in support.
SF 161 PE Flexibility: this bill adds show choir, marching band and color guard to allow substitutes for physical activity and requires that districts exempt students from PE if they meet one of the exceptions in current law or these new expanded exceptions. The bill moves to the Senate Education Committee. Note: there are PE flexibility provisions in the Governor's Chapter 12 Flexibility Bills SSB 1076 and HSB 119, with possibilities of this proposal being incorporated into those discussions. UEN is registered in support.
HSB 118 IASB Code Clean-Up and Modernization Bill: See last week's report for details of the bill. The Subcommittee met and is moving the bill forward to the full committee. UEN is registered in support.
Chapter 12 Flexibility: Annotated Version Available
HSB 119 Education Standards Flexibility: this bill is identical to SSB 1076 which was detailed in the Jan. 26 Weekly Report. An annotated version of the bill, with side-by-side bill text and explanations, is available on the UEN website here: Chapter 12 SSB 1076 Annotated. Some clarifications and suggested amendments that were brought up during a subcommittee meeting in the House this week include:
Allowance of 5 days of virtual learning needs to be written in a way that doesn't prohibit virtual options.

PE exceptions should include non-school-sponsored activities

School counselors asked for consistent language (not called guidance counselors anymore)

Librarians' association is opposed to changes to school librarian requirements

Regents expressed concerns about lowering foreign language from 4-2

No mention of the fine arts, lowering from 3-2 required courses, but some pushback is expected on the Senate side.
Opportunities in this proposal in the areas of sequential courses taught simultaneously and community college courses meeting offer and teach requirements are significant for school efficiency and student opportunity. Elimination of CSIP will minimize some reporting and compliance process. This bill is in the House Education Committee. UEN is registered in support.
SF 179 FFA and 4-H Excused Absences: this bill requires school districts to have a board policy excusing students from school for FFA and 4-H activities. The students in the subcommittee expressed concerns about the burden of making up missed work. As this interferes with local control and decision-making of boards and singles out just two organizations, UEN is registered opposed.
SF 29 Open Enrollment Transportation: this bill would allow a receiving district to drive into a resident district to transport a student open enrolling into the receiving district. The bill is broad with no limitations. We expressed concerns about equity, inefficiency, bus driver shortage and suggested there should be some guardrails put on the policy. UEN is opposed to this bill. The Subcommittee voted 2:0 to move the bill forward, but could yet entertain some amendments. A companion bill, HF 134, is on the House Calendar.
HSB 145 Open Record/Meeting Complaint: increases the period of time to file a complaint regarding a violation of sunshine laws from 60-90 days. UEN is undecided.
HF 196 Comments at School Boards: this bill requires school board agendas for regular and special meetings to include 30 minutes of public comment period. UEN is opposed.
HF 153 School Building Demolition Fund: this bill creates a fund to assist cities that own vacant school buildings to pay for demolition, with funding appropriated from the Rebuild Iowa Infrastructure Fund. It is limited to county areas that are not urban (all but the largest 11 counties). The subcommittee met and discussed an amendment to clarify eligibility, moving it forward to the House Economic Growth & Technology Committee. UEN is registered as undecided.
HSB 111 Paying Student Teachers: this bill allows but does not require school districts to pay a stipend to student teachers, but does not provide funding in order to take on this expense. The subcommittee agreed 2:0 to amend the bill and move it forward. UEN is registered undecided.
SF 159 Gender Identity Education: prohibits gender identity/sexual orientation education in schools for grades K-8. Makes definitions. Requires schools to inform parents of all invasive physical exams/health screenings that are not required by federal law. Requires the state Board of Education to establish standards. Requires schools to notify parents about changes in the mental health or well-being. Allows parents to allege violations of policies regarding human growth and development (sex education). Allows parents to appeal to the State Board if the violation is not fixed or to seek court relief. Establishes civil penalties against schools for violations. Assigned to the Senate Education Committee. A subcommittee of Sens. Salmon, Evans and Quirmbach met on Thursday and voted 2:0 to move the bill forward. UEN opposes the bill due to the following concerns: 1) the counselor code of ethics sometimes requires confidentiality of records. This bill does not include any exceptions for counselors. 2) The bill eliminates the Iowa Youth Survey, which provides data and information about culture and climate in schools and youth substance use trends and other concerns over time. 3) Federal Title IX regulations require certain actions regarding accommodations for students and confidentiality. If a district is complying with federal law, they should not be at risk of losing state accreditation or sanction due to a conflict with federal law. 4) We disagree with the civil action and financial penalty as the remedy – school regulations should be enforced through accreditation. 5) There is an exception for disclosing information to parents if a reasonable person would believe a risk of child abuse exists, but there should also be an exception regarding reasonable suspicion of self-harm.
Advocacy Actions This Week
Always start with a thank you! See the UEN 2022 Legislative Session Successes and find one you are grateful for them accomplishing. Thank legislators and the Governor for setting SSA at within the 30-day requirement and at 3%, which is the second highest in 14 years. Encourage a continued look into additional flexibility to pay teachers, preserve and expand programs for students, and rework chapter 12 educational standards requirements to be efficient, effective and up-to-date.
Reach out to all requesting School Choice Clean-up Amendments. In order to aid in a smooth transition, protection

of public schools where appropriate and to protect Iowa children down the road, encourage your legislators to engage in some thoughtful conversation about implementation of the Education Savings Account Program. We recommend the following provisions:

Require an

Independent Accreditation Report be public, including standards to which private schools are held and certification that the private school met the standards, if the private school receives tuition from a parent's education savings account and the private school is accredited by an Independent Accrediting Agency.

If students receiving an ESA leave the private school and return to the public school after the Oct. 1 enrollment count, funding

 should follow them back to the public school.

The a

pplication deadline after this year should be earlier than June 30 to allow public school staff and programming adjustments. April 30 would be good. A deadline for Open Enrollment applications should be the same (and there should be one).

UEN is opposed to HSB 138 which would allow private school parents to opt out of state mandated tests which is not allowed for public schools.

Share concerns with Senators regarding proposed limits on administrative costs (Oppose SF 251). Although a discussion about how to better invest resources in classrooms and minimize administrative burdens is welcome, the definitions in this proposal are not well thought out and will likely have severe consequences. Many administrative positions and expenses are directly related to mandates by state and federal government in addition to best practice oversight and support of improved teaching and learning.
Encourage good discussions on Flexibility: There are so many in the works; teacher recruitment and licensure flexibility, chapter 12 flexibility and efficiency, bond language clean-up.  See above for the many proposals that UEN supports.
Connecting with Legislators: To call and leave a message at the Statehouse during the legislative session, the House switchboard operator number is 515.281.3221 and the Senate switchboard operator number is 515.281.3371. You can ask if they are available or leave a message for them to call you back. You can also ask them what's the best way to contact them during session. They may prefer email or text message or phone call based on their personal preferences.
Find biographical information about legislators gleaned from their election websites on the ISFIS site here: http://www.iowaschoolfinance.com/legislative_bios Learn about your new representatives and senators or find out something you don't know about incumbents.
Find out who your legislators are through the interactive map or address search posted on the Legislative Website here: https://www.legis.iowa.gov/legislators/find
UEN Advocacy Resources: Check out the UEN Website at www.uen-ia.org to find Advocacy Resources such as Issue Briefs, UEN Weekly Legislative Reports and video updates, UEN Calls to Action when immediate advocacy action is required, testimony presented to the State Board of Education, the DE or any legislative committee or public hearing, and links to fiscal information that may inform your work. The latest legislative actions from the Statehouse will be posted at: www.uen-ia.org/blogs-list. See the new 2023 UEN Advocacy Handbook, which is also available from the subscriber section of the UEN website
Committee Members:
House Education Committee Members
House Education Reform Members
Senate Education Committee Members
Contact us with any questions, feedback or suggestions to better prepare your advocacy work:
Margaret Buckton
UEN Executive Director/Legislative Analyst
margaret@iowaschoolfinance.com
515.201.3755 Cell
Thanks to our UEN Corporate Sponsors:
Special thank you to your UEN Corporate Sponsors for their support of UEN programs and services. Find information about how these organizations may help your district on the Corporate Sponsor page of the UEN website at www.uen-ia.org/uen-sponsors.