Capitol Update - April 15, 2021
UEN Legislative Update
April 15, 2021
In this UEN Weekly Report from the 2021 Legislative Session, find information about:
Education Budget Bills move through Committees

Big Education Policy Bills still pending

List of "to dos" to finish this Session

Advocacy checklist for this week
Education Appropriations
The Education Appropriations Bills have now each prevailed through their appropriations committees, moving to their respective calendars. The annual Education Appropriations bill typically includes funding for community colleges, regents, the DE, and other executive branch agencies, and a few line items impacting schools. SF 596 NOBA provides the following details and tracking documents:
Therapeutic Classroom Prior Appropriations FY 2022: the tracking document includes funding provided in SF 2360 (Classroom Environment and Therapeutic Classrooms Act) during the 2020 Session: $500,000 to DE for developing standards and guidance on behavior in the classroom, restraint of a student, least restrictive environment, and research-based intervention strategies. $500,000 to DE for reimbursement to school district claims for therapeutic classroom transportation.

Includes a new appropriation of $3.0 million to DE for Student First Scholarships, a portion of SF 159 (Charter Schools, Education Savings Grant Program Bill) if enacted.

SF 596 establishes a task force on growing a diverse K-12 teacher base in Iowa. The task force will be convened by DE, in consultation with Iowa Jobs for America's Graduates (iJAG). Requires the Task Force on Growing a Diverse K-12 Teacher Base in Iowa to submit a report regarding its findings and recommendations, including any proposed legislative or administrative rule changes, to the Governor, the General Assembly, and the State BOE by Dec. 15, 2021.

The Senate also appropriates $2.1 million for Children's Mental Health. The House's number for that line item is $1.0 million.
Here are the line item appropriations from the bill tracking, with the significant differences between the Senate's version, SF 596, and the House's version, HF 868, both of which are on their respective debate calendars, highlighted: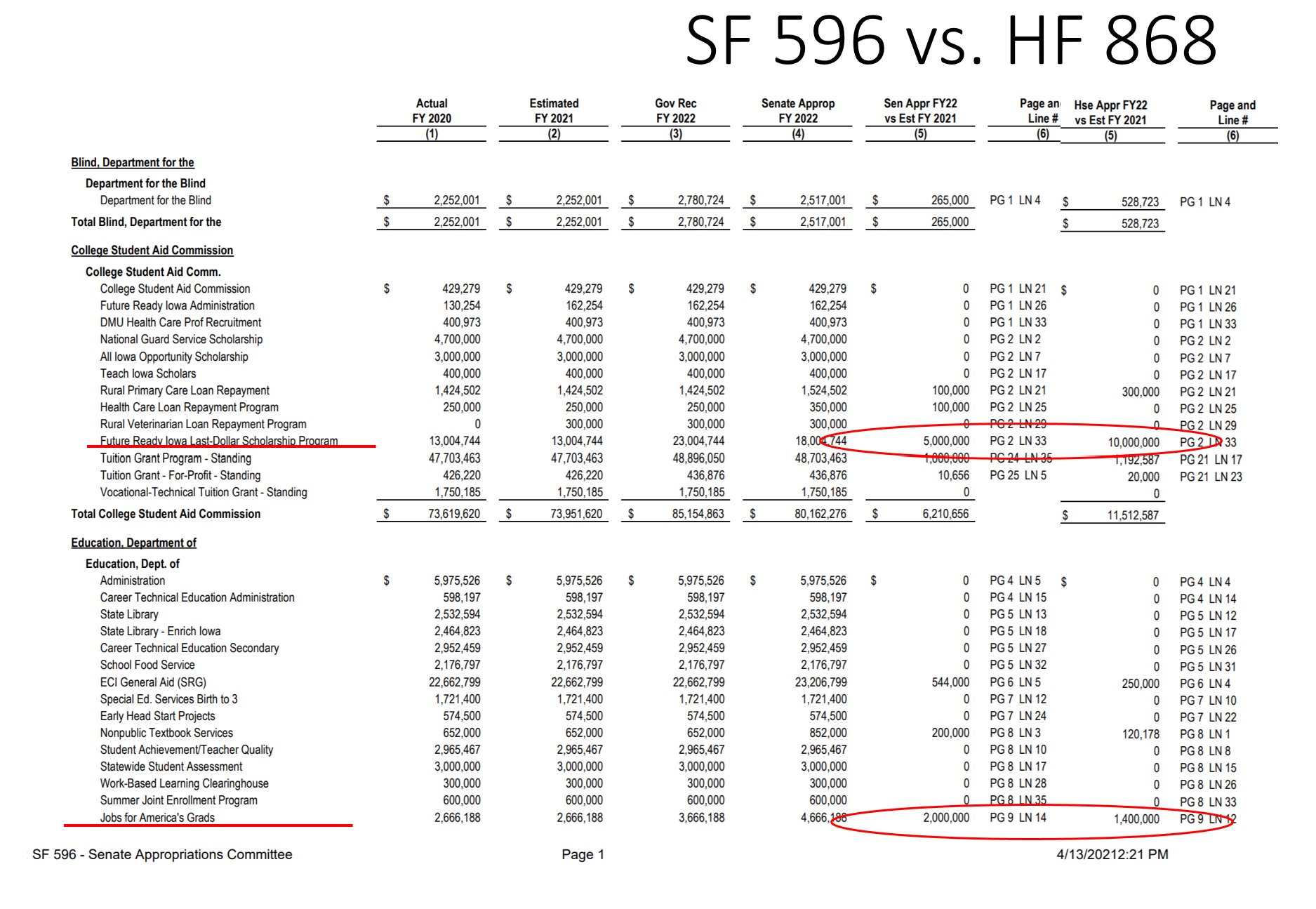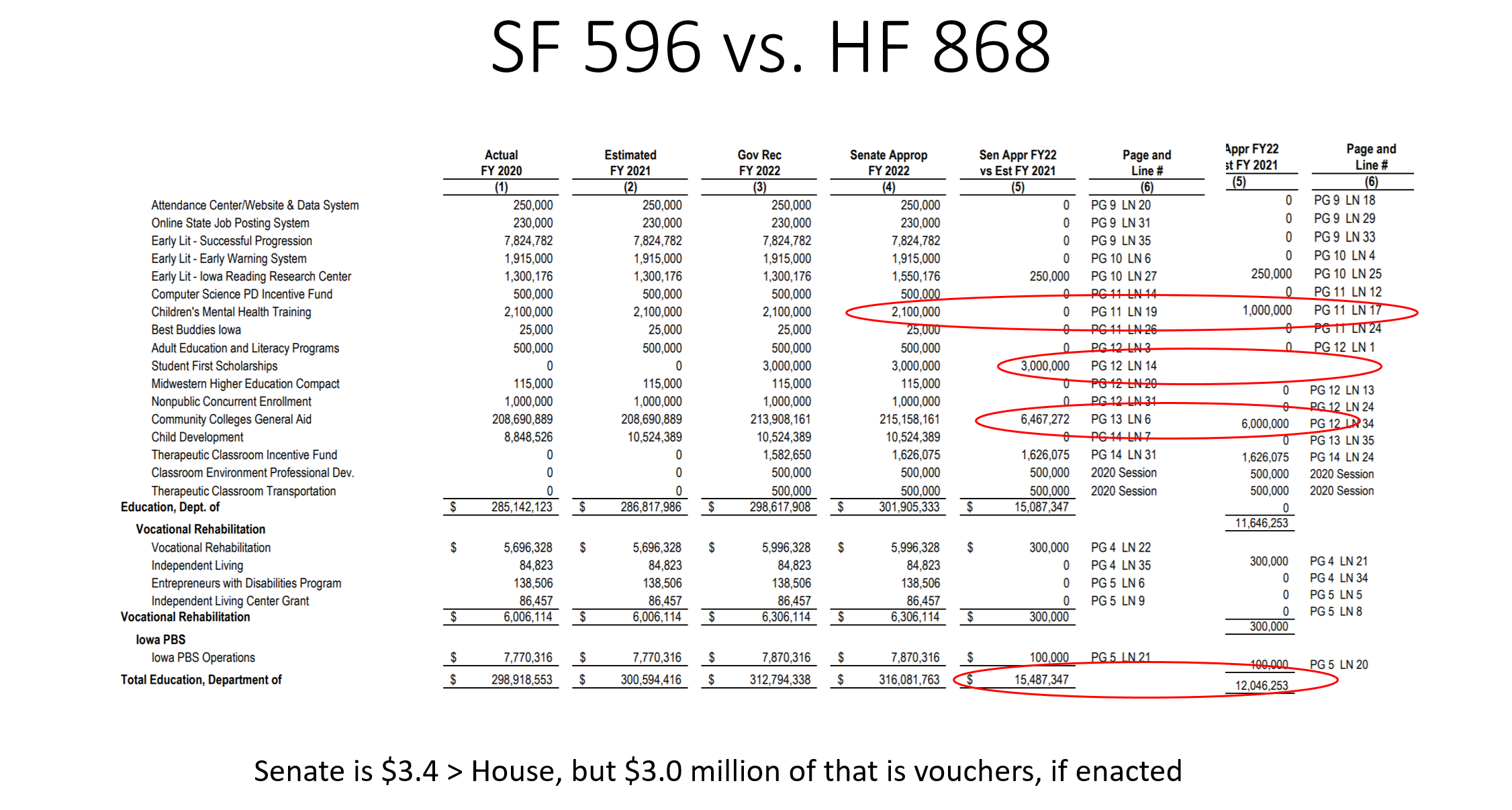 Although the Senate is $3.4 million above the House total for DE, the Senate's number includes $3.0 million for vouchers, if enacted.
Other Education Bills Pending

List of "To Do's" to Finish the 2021 Session
In addition to the Education Budget, the House and Senate need to come to an agreement on identical budget bills in all areas of the budget. Each bill must get through the committee, the chamber and then repeat on the other side. We are hearing there are some differences between the chambers being ironed out in leadership negotiations. The end of Session has resulted in last-minute surprises in the past. Keep a close watch on your inbox should a hurried call to action emerge in the next couple of weeks.

Advocacy Checklist this Week in the Senate
HF 802 Diversity Training Restrictions, needs amending in the Senate to remove any restrictions on curriculum, which is the purview of the school board.
HF 813 Charter Schools, needs amending to apply public records sunshine laws, require administrator licensure, require the founding group to be Iowans, and require charters to pay prorated funds to the public school if a student leaves the charter school during the school year and returns to the public school. Contact your Senators and let them know the bill needs amendment.
HF 532 Qualified Instructional Supplement and PK enrollment growth fix: Ask for Yes vote on Senate Amendment which improves the distribution formula and provides an SBRC process for funding and spending authority for increased preschool students in the Fall of 2021.

Advocacy Checklist this Week in the House
HF 228 Diversity Plans/Open Enrollment amended and back to the House (needs clean-up on amendment which notwithstands the whole open enrollment code section.) Ask House members to include a reasonable application deadline for open enrollment out of districts with diversity plans for the 2021-22 school year.
Vouchers: Encourage Representatives to continue to stand their ground and not to give in to the Governor's and Senate's demands for a school voucher program. Iowa already has competition and many school choices available to parents and students.

Connecting with Legislators:
Find biographical information about legislators gleaned from their election websites on the ISFIS site here: http://www.iowaschoolfinance.com/legislative_bios Learn about your new representatives and senators or find out something you don't know about incumbents.
Find out who your legislators are through the interactive map or address search posted on the Legislative Website here: https://www.legis.iowa.gov/legislators/find
To call and leave a message at the Statehouse during the legislative session, the House switchboard operator number is 515.281.3221 and the Senate switchboard operator number is 515.281.3371. You can ask if they are available or leave a message for them to call you back.

Advocacy Resources:
Check out the UEN Website at www.uen-ia.org to find Advocacy Resources such as Issue Briefs, UEN Weekly Legislative Reports and video updates, UEN Calls to Action when immediate advocacy action is required, testimony presented to the State Board of Education, the DE or any legislative committee or public hearing, and links to fiscal information that may inform your work. The latest legislative actions from the statehouse will be posted at: www.uen-ia.org/blogs-list. See the UEN Advocacy Handbook linked here, which is also available from the subscriber section of the UEN website

Thanks to our UEN Corporate Sponsors:
Special thank you to your UEN Corporate Sponsors for their support of UEN programs and services. You can find information about how these organizations may help your district on the Corporate Sponsor page of the UEN website at https://www.uen-ia.org/uen-sponsors.

Contact us with any questions, feedback or suggestions to better prepare your advocacy work:
Margaret Buckton
UEN Executive Director/Legislative Analyst
margaret@iowaschoolfinance.com
515.201.3755 Cell